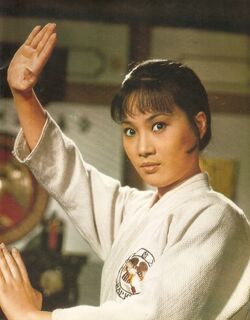 Angela Mao (born Mao Fujing, simplified Chinese: 茅复静; traditional Chinese: 茅復靜; pinyin: Máo Fùjìng, 20 September 1950), is a Taiwanese actress and martial artist best known for appearing in many martial arts films in the 1970s. She is sometimes credited as Mao Ying or Angela Mao Ying. She is nicknamed "Lady Whirlwind" and "Lady Kung Fu" by her fans.
Mao trained in hapkido, wushu, taekwondo, and other forms of martial arts during her film career to prepare for her roles. She was paid US$100 for her short role as the sister of Bruce Lee's character in the film Enter the Dragon. Mao married Kelly Lui in 1974 and gave birth to a baby in 1976. She retired from films in 1992 to devote herself to her family.
References
Edit
Ad blocker interference detected!
Wikia is a free-to-use site that makes money from advertising. We have a modified experience for viewers using ad blockers

Wikia is not accessible if you've made further modifications. Remove the custom ad blocker rule(s) and the page will load as expected.