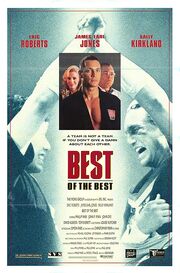 Best of the Best is a 1989 American martial arts film directed by Bob Radler and produced by Phillip Rhee. Rhee also co-stars in the film. The film also stars Eric Roberts, James Earl Jones, and Christopher Penn. Prominent martial artist Hee Il Cho also appears in this film.
The plot revolves around a team of American taekwondo competitors facing a team of Koreans in a taekwondo tournament. The film spawned several sequels.
For more, see Wikipedia https://en.wikipedia.org/wiki/Best_of_the_Best
Stream it on Amazon.