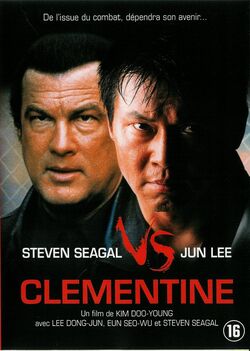 Clementine (also known as Hard to Fight) is a 2004 film staring Dong Jun Lee and Steven Seagal. Lee plays Kim, a taekwondo champion who decides to give up his fighting career in order to take care of his daughter Sa Rang. But when an evil gambling kingpin kidnaps Sa Rang, Kim must agree to fight in a rigged boxing match in exchange for Sa Rang's freedom. Kim now finds himself face to face with "King of the Cage" fighter Jack Miller (Seagal), a man who has never lost.
References
Edit
Ad blocker interference detected!
Wikia is a free-to-use site that makes money from advertising. We have a modified experience for viewers using ad blockers

Wikia is not accessible if you've made further modifications. Remove the custom ad blocker rule(s) and the page will load as expected.