Covered Fist Posture (also called Covered First Ready Stance or bojumeok junbi) is ready posture based on Closed Stance where one wraps the right fist with the left hand in front of the body.
When performed in Taegeuk Chil Jang, Covered Fist is performed slowly, to an 8-count. The left hand is placed around the right hand, down by the waist. During a 5-count, the two fists are brought slowly upward to the height of the upper-chest, fists still close to the body. Elbows are kept tucked-in to the body throughout this. Then with a 3-count, the fists are extended outward away from the body. 
A similar stance (the Closed Ready Stance Type A) appears in the ITF-style form Won-Hyo.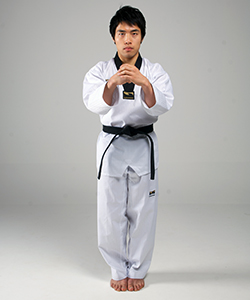 Related Techniques
Edit
References
Edit