Dan-Gun is the second ITF-style color belt teul (form). It has 21 movements and is diagrammed as a capital I.
Dangun Wanggeom was the legendary founder of Gojoseon, the first kingdom of Korea, in present-day Liaoning, Manchuria, and the Korean Peninsula. He is said to be the grandson of the god of heaven, and to have founded the kingdom in 2333 B.C.E. Although the term Dangun commonly refers to the founder, some believe it was a title used by all rulers of Gojoseon, and that Wanggeom was the proper name of the founder.
ITF Taekwon-do forms often come in two styles: Sine Wave and non-Sine Wave. In either case, the basic movements are the same. The difference is in the "up and down" motion that's used (or not), the rhythm of the movements, and the breathing. See main article Sine Wave for additional details.
Why was this video chosen for use on this wiki? Do you have a better video? Please see Video Guidelines before replacing this video with a better one.
Sine Wave
Non-Sine Wave

00:41

Dan Gun performed by Joel Denis

00:43

Dan Gun
To print the diagram, click on the image and select "See full size image," or right-click and open the image in a new tab.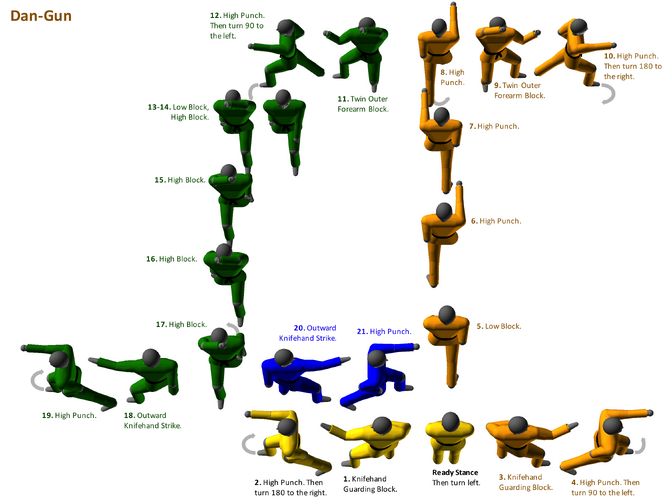 Written Instructions
Edit

Here on this wiki, the wording used to describe this form deviates from the conventional wording historically used to describe the form. This was done to facilitate wiki-style links to the names of associated techniques. To view the conventional wording, see ITF Forms Summary Description.
ITF Color-Belt Forms
Edit
The other forms in the ITF-series of Color Belt forms are:
References
Edit
The primary reference is:
The following websites are also particularly good online references for ITF-style taekwondo:
Ad blocker interference detected!
Wikia is a free-to-use site that makes money from advertising. We have a modified experience for viewers using ad blockers

Wikia is not accessible if you've made further modifications. Remove the custom ad blocker rule(s) and the page will load as expected.