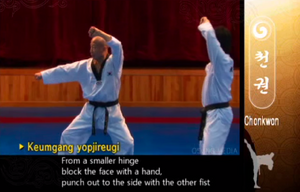 The Diamond Side Punch (keumgang yop jireugi) starts from a Small Hinge Block position on the opposite side of the body. One arm performs a High Block and the other arm performs a Middle Punch. Your eyes should be looking toward the target of the punch.
The Diamond Side Punch appears, for example, in the form Cheonkwon.
Related Techniques
Edit
Ad blocker interference detected!
Wikia is a free-to-use site that makes money from advertising. We have a modified experience for viewers using ad blockers

Wikia is not accessible if you've made further modifications. Remove the custom ad blocker rule(s) and the page will load as expected.