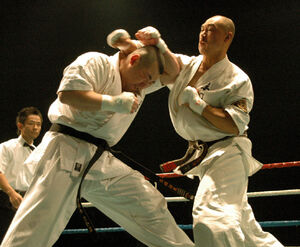 Gwon Gyokdo (also known as Kyuk Too Ki, Kyeok Too Ki, Kun Gek Do, Gyeok Tu Gi, Gweon Gyeok Do, Gwon-gyokdo, or Korean Kickboxing) is a hybrid martial art that combines techniques from both Muay Thai and Taekwondo. The idea is to combine basic Taekwondo kicking with the leg blocks, knee strikes, and elbow strikes that make Muay Thai so powerful. Gwon Gyokdo is a competitive sport in which competitors fight in a ring. Strength-training and body-hardening are emphasized.
See Also
Edit
References
Edit
Ad blocker interference detected!
Wikia is a free-to-use site that makes money from advertising. We have a modified experience for viewers using ad blockers

Wikia is not accessible if you've made further modifications. Remove the custom ad blocker rule(s) and the page will load as expected.