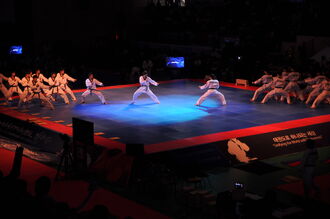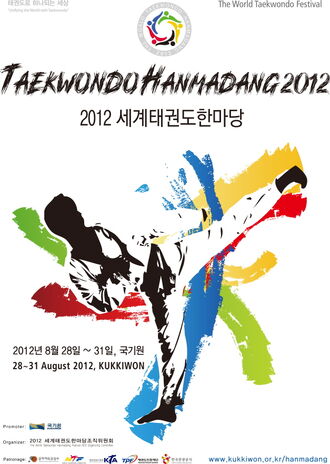 A hanmadang (한마당) is a taekwondo festival. The word hanmadang literally means festival. Hanmadangs are generally sponsored by the Kukkiwon. The Kukkiwon sponsors a main hanmadang called the World Taekwondo Hanmadang, usually held in Korea, lasting about a week. In addition, Kukkiwon sponsors smaller, national hanmadangs at various countries around the world, usually lasting a couple days. The first World Taekwondo Hanmadang was held in 1992.
Many taekwondo competitions -- especially at the national level -- focus on sparring. This gives taekwondo practitioners few venues at which to compete at the national level in other events such as speed breaking, power breaking, traditional and creative poomsae, self-defense, and demo teams. The purpose of hanmadang are to fill this gap with national-level events that offer competitions in these other areas.
References
Edit
Ad blocker interference detected!
Wikia is a free-to-use site that makes money from advertising. We have a modified experience for viewers using ad blockers

Wikia is not accessible if you've made further modifications. Remove the custom ad blocker rule(s) and the page will load as expected.