In September 2016 the Kukkiwon and the Asian Taekwondo Union announced the development of ten new poomsae to be used in taekwondo competitions. The ten new forms are:
The idea is that during the initial rounds of tournament poomsae competitions, athletes will compete using the conventional Kukkiwon curriculum poomsae; but then for the final rounds, athletes will compete using these more difficult poomsae. The added difficulty will make it easier for judges to distinguish between the performances of top-rank competitors.
Why was this video chosen for use on this wiki? Do you have a better video? Please see Video Guidelines before replacing this video with a better one.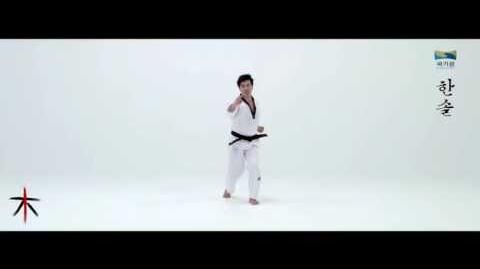 The following diagram is not definitive. It is based only on the videos that have been released so far.
Written Instructions
Edit
These instructions are not definitive. They are based on what is seen in the above video. The time-marks in these instructions correspond to the time-marks in the video.
Moving down and then up the stem (GA direction, north)…
Moving along the horizontal, first in the DA direction…
Edit
…then mirror in the RA direction:
Edit
Moving down and up the first diagonal leg:
Edit
Mirror, moving down and up the second diagonal leg:
Edit
Moving back down the stem:
Edit
See Also
Edit
References
Edit
TBD
Ad blocker interference detected!
Wikia is a free-to-use site that makes money from advertising. We have a modified experience for viewers using ad blockers

Wikia is not accessible if you've made further modifications. Remove the custom ad blocker rule(s) and the page will load as expected.