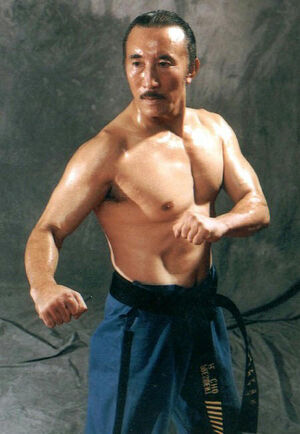 CHO, Hee-Il (born October 13, 1940) is a prominent Korean-American master of taekwondo, holding the rank of 9th dan in the martial art. He has written 11 martial art books, produced 70 martial art training videos, and has appeared on more than 70 martial arts magazine covers. Cho won several national and international competitions as a taekwondo competitor, and has appeared in several films, including Fight to Win, Best of the Best, Bloodsport II, and Bloodsport III. He founded the Action International Martial Arts Association (AIMAA) in 1980, and is its President. Cho is a member of both Black Belt magazine's Hall of Fame and Tae Kwon Do Times magazine's Hall of Fame.
For additional detail, see Cho's biography on Wikipedia (see below).
References
Edit
Ad blocker interference detected!
Wikia is a free-to-use site that makes money from advertising. We have a modified experience for viewers using ad blockers

Wikia is not accessible if you've made further modifications. Remove the custom ad blocker rule(s) and the page will load as expected.