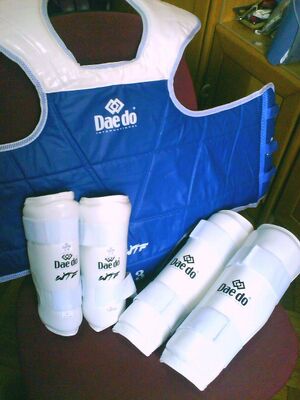 A hogu is the padded torso-protector worn by practitioners of Taekwondo during sparring. Translated into English, hogu means chest or chest protector. The hogu has been used in World Taekwondo Federation sparring since the 1950s. The hogu is the most common scoring area in Taekwondo sparring. Hogus are made by various companies such as Adidas and Dae Do; only certain brands of chest protector are approved by the WTF. The chest protector is mandatory in WTF- or Olympic-style competition.
At the National and International sparring levels, electronic hogu faciliate automated scoring via the use of built-in sensors that detect when a fair hit has taken place. In lower-level competitions, that function is performed by the human judges.
See Also
Edit
Ad blocker interference detected!
Wikia is a free-to-use site that makes money from advertising. We have a modified experience for viewers using ad blockers

Wikia is not accessible if you've made further modifications. Remove the custom ad blocker rule(s) and the page will load as expected.