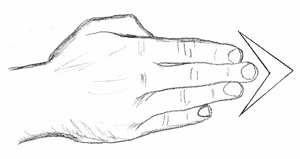 A Horizontal Fingertip Thrust (also commonly called a Fingertip Thrust, Spearhand Strike or a Spearhand Thrust) is a Spearhand Thrust that's performed with the hand held horizontally (rather than vertically).
The Horizontal Spearhand appears, for example, in the form Sipjin.
Related Techniques
Edit
Ad blocker interference detected!
Wikia is a free-to-use site that makes money from advertising. We have a modified experience for viewers using ad blockers

Wikia is not accessible if you've made further modifications. Remove the custom ad blocker rule(s) and the page will load as expected.