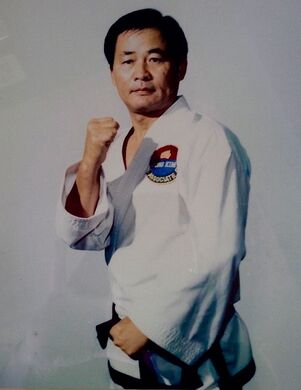 KIM, Jong-Chan (JC Kim, Jong Kim, Jong Chan Kim) is one of the Original Masters of taekwondo. Kim was born in Japan on February 12, 1936. At the end of World War II, Kim returned to Korea.
1953: Kim began studying martial arts with Kim Bong Gil.
1956: Kim joined the Military Police Academy where he studied various martial arts under Kim Sung Bok.
1957: Under the direction of General Park, Kim and Major Park built the first Taekwon-Do Academy for the South Korean Army's 7th Infantry Division. It was here that Kim was first introduced to General Choi Hong Hi.
1958: Kim attended the First Instructors course held under the First Army in Won Ju, Korea, led by Major Woo (2nd Dan Black Belt), Lieutenant Hong (1st Dan Black Belt) and Captain Nam (3rd Dan Black Belt). Kim was appointed to the Special Security Mission for the Army commander. 
1960: Kim was promoted to 2nd Dan Black Belt in Taekwon-Do.
1962: Kim was appointed as Head Instructor of the Oh Do Kwan's main dojang in Seoul. Kim organized  the world's first Taekwon-Do Championships, held in Wonju, Korea, in which C.K. Choi became free sparring and patterns (teul) champion.
1963: Kim was promoted to Tae Soo Do (Karate) 3rd Degree Black Belt.
1964: Kim trained directly under General Choi Hong Hi for four months. Kim assisted General Choi with the his reference book Tae Kwon Do Art of Self Defense. Kim introduced Park Jong Soo to General Choi. Kim was apointed as the first Instructor to Instructors for the Minister of Defense (Army, Navy, Air Force & Marine Corps).
1965: Organized Taekwon-Do as primary martial art trained in the Korean military.
1966: Upon the founding of the The International Taekwon-Do Federation (ITF), Kim was appointed as Chief Instructor and a founding member of the ITF. Kim taught the teul Chon-Ji through Choong-Moo to instructor Jhoon Rhee ("the father of U.S. taekwondo") and to instructor Han Chang Kim ("the father of Argentina taekwondo"). Kim was appointed as the first Tae Kwon Do Chief Instructor to the Korean National Police Force by the Minister of Homeland Affairs.
1967: Kim developed the first International Instructors course for the ITF, where the minimum student entrant would possess a 4th Dan black belt.
1968: Kim was invited by the Singapore government to introduce Taekwon-do. Kim instructed in Malaysia Perak State.
1969: Organized the first Malaysian Taekwon-do Championships in Penang.
1970: Arrived in Vancouver, British Columbia, Canada to promote and demonstrate Taekwon-do with C.K. Choi at UBC, SFU and various high schools.
Organized with Han Cha Kyo the first Asian Taekwon-do Championships, held in Hong Kong.
1971 Taught Navy Cadets in New Westminster, British Columbia. Arrived in Montreal Canada.
1972: Opened the first Taekwon-do School in Montreal.
1973: Appointed as the first Chairman of the Technical  Committee of the International Taekwon-do Federation (ITF). Promoted to 7 Dan black belt. Organized the World's First Taekwon-do Masters Demonstration, at the  Montreal Forum where 27 Masters attended.
1974: Organized the Worlds First Taekwon-do Championships held at the Montreal Forum. Twenty-four countries participated.
1975: Invented the stretching machine "the Stretchersizer".
1976: Invited as the Instructor, of the European Instructors course held in Glasgow, U.K.
1977: Studied Bio Physical Education at Concordia University.
1978: Moved to New Westminster, British Columbia.
1979: Trained 21 Taekwon-do instructors in Argentina including Dr Hector Marano and Pablo Trajtenberg, and with an unprecedented move, promoted several of them directly from 2nd  Dan to 4th Dan Black Belts.
1981: Promoted to 8th Dan Black Belt. Elected as the Secretary General of the ITF. Appointed as the Chairman of the Merging Committee for the ITF and WTF. As Chairman of the merging committee, negotiated the merging agreement between the ITF and the WTF, that was submitted to the International Olympic Committee by Un Yong Kim, in order to have Taekwon-do accepted as an Olympic sport. 
1982: Quietly resigned from the ITF and all Taekwon-do duties, due to opposition to General Choi's controversial political statements made in  North Korea. 
1991: Promoted to 9th Dan Black Belt.     
2015: Kim's two sons Rich Kim and Ed Kim are following in his footsteps, are currently and have been for over 30 years, teaching Taekwon-do in Surrey, BC.          
Statement by Jong Chan Kim:  "I strongly support that General Choi is the original Founder of  Taekwon-do and is the father of Taekwon-do. Without the work of General Choi,  Taekwon-do would not exist."
References
Edit
Ad blocker interference detected!
Wikia is a free-to-use site that makes money from advertising. We have a modified experience for viewers using ad blockers

Wikia is not accessible if you've made further modifications. Remove the custom ad blocker rule(s) and the page will load as expected.