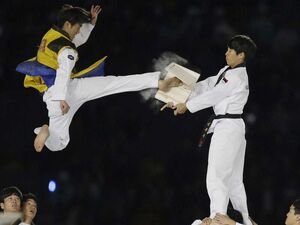 The Kukkiwon Demonstration Team consists of over 70 taekwondo masters and students who hold a fifth degree black belt in taekwondo. Since its foundation in 1974, the team has visited over 100 countries to promote taekwondo worldwide. The team not only promotes the martial art through its demonstrations at various festivals and events related to Korea, but also actively promotes Korean culture.
References
Edit
Ad blocker interference detected!
Wikia is a free-to-use site that makes money from advertising. We have a modified experience for viewers using ad blockers

Wikia is not accessible if you've made further modifications. Remove the custom ad blocker rule(s) and the page will load as expected.