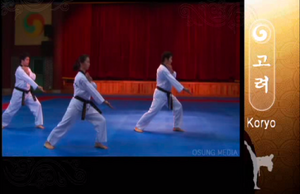 In a Low Fingertip Thrust, (also called Low Upturned Fingertip Thrust, or Low Upset Fingertip Thrust) the thrusting hand begins at the front of the chest and thrusts downward with the palm facing upward. The target is the groin. The other hand is a knifehand, or fist, held just above the shoulder of the thrusting arm. The Low Fingertip Thrust is seen in the forms Toi-Gye and Koryo, for example.
Ad blocker interference detected!
Wikia is a free-to-use site that makes money from advertising. We have a modified experience for viewers using ad blockers

Wikia is not accessible if you've made further modifications. Remove the custom ad blocker rule(s) and the page will load as expected.