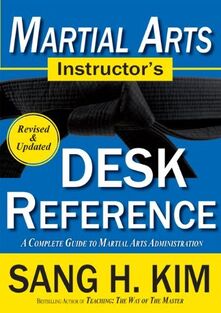 Book Title: Martial Arts Instructor's Desk Reference
Authors: Sang H. Kim
Taekwondo Style: All
ASIN: B001GIOGL4
Amazon: http://www.amazon.com/Martial-Arts-Instructors-Desk-Reference-ebook/dp/B001GIOGL4
Description
Edit
From Amazon:
The Martial Arts Instructor's Desk Reference is a complete guide to advanced teaching concepts and martial arts school administration. Author and veteran martial arts instructor Sang H. Kim covers a wide range of essential topics for the professional martial arts instructor including:

teaching children with ADD, behavioral problems and learning disabilities
creating lesson plans and teaching specific curriculum elements
combating boredom through hundreds of drills and training ideas
marketing, advertising, publicity, staffing and customer service
instructor training and evaluation
tournament management
Ad blocker interference detected!
Wikia is a free-to-use site that makes money from advertising. We have a modified experience for viewers using ad blockers

Wikia is not accessible if you've made further modifications. Remove the custom ad blocker rule(s) and the page will load as expected.