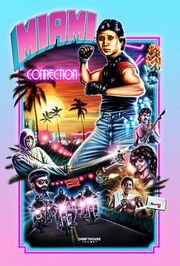 Miami Connection is a 1987 martial arts film directed by Woo-sang Park and starring Young Kun Kim. The plot revolves around a rock band called Dragon Sound whose members are also taekwondo experts. Fed-up with the drug dealers and motorcycle gangs in Miami, Dragon Sound attempts to clean up the city.
For more, see Wikipedia https://en.wikipedia.org/wiki/Miami_Connection
Miami Connection on IMDB http://www.imdb.com/title/tt0092549/
Ad blocker interference detected!
Wikia is a free-to-use site that makes money from advertising. We have a modified experience for viewers using ad blockers

Wikia is not accessible if you've made further modifications. Remove the custom ad blocker rule(s) and the page will load as expected.