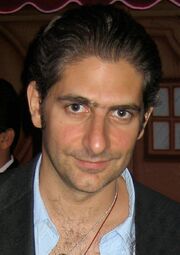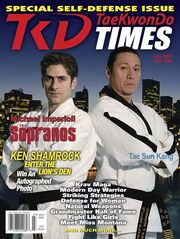 Michael Imperioli (born March 26, 1966) is an American actor, writer, director and producer. He is known for his role as Christopher Moltisanti on The Sopranos, for which he won the Primetime Emmy Award for Outstanding Supporting Actor in a Drama Series in 2004. He also appeared in the TV drama series Law & Order as Detective Nick Falco. Imperioli spent the 2008-2009 television season as Detective Ray Carling in the US version of Life on Mars. He was starring as Detective Louis Fitch in the ABC police drama Detroit 1-8-7 until its cancellation. He wrote and directed his first feature film The Hungry Ghosts in 2008 which was the Opening Night Selection for the 2009 Rotterdam International Film Festival.
Imperioli is 3rd Dan in ITF-style taekwondo. From the Washington Post:
The 40-year-old actor, who plays the heroin-addicted, hothead mobster Christopher Moltisanti on "The Sopranos," says he owes his clean new real life to tae kwon do teacher Tae Sun Kang, who also trains Imperioli's wife, Victoria, and children.
"I was in terrible physical shape. I smoked a pack a day," he said. "Tae kwon do has transformed our family in body, mind and spirit. It has changed us as human beings."
References
Edit