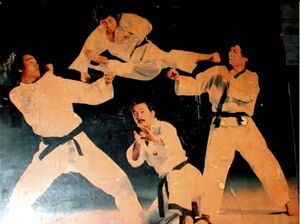 CHOI, Nam-sung is a taekwondo pioneer who was one of the founders of taekwondo in Argentina. Choi was originally from a northern Korean village; the withdrawal of American troops in 1950 forced the family to move south separately. As a twelve-year old boy he ended in an orphanage, and he eventually learned to survive in the streets as a child selling smuggled goods. He learned martial arts to deal with gangs that attempted to rob him of his earnings.
Taekwondo was introduced in Argentina on June 22, 1967, when three Korean masters (Han Chang Kim, Nam Sung Choi and Kwang Duk Chung) arrived in Argentina. The three arrived on a cargo ship and both Choi and Chung intended to go to Paraguay to start businesses, but Kim convinced them to settle in Buenos Aires instead to start teaching taekwondo. The three men were later joined by Seo Chong Lee, Dae Yang and Chung Moon Chol Jung.
See Also
Edit
References
Edit
Ad blocker interference detected!
Wikia is a free-to-use site that makes money from advertising. We have a modified experience for viewers using ad blockers

Wikia is not accessible if you've made further modifications. Remove the custom ad blocker rule(s) and the page will load as expected.