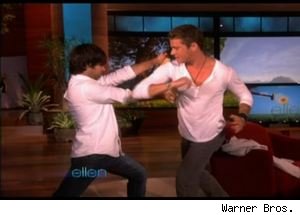 Actor Ryan Phillippe has a black belt in taekwondo. Phillippe has studied taekwondo since he was 8 years old; he's competed in tournaments and has even taught kids.
Matthew Ryan Phillippe (/ˈfɪlɨpiː/; born September 10, 1974), better known as Ryan Phillippe, is an American actor and director. After appearing on the soap opera One Life to Live, he came to fame in the late 1990s starring in a string of films, including I Know What You Did Last Summer, Cruel Intentions, and 54. In the 2000s, he appeared in several films, including 2001's Academy Award Best Picture nominee Gosford Park, 2005's Academy Award-winning ensemble film Crash, and the 2006 war drama Flags of Our Fathers. In 2007 he starred in Breach, a movie based on the true story of FBI operative Eric O'Neill, while in 2008 he headlined Kimberly Peirce's Iraq war film Stop-Loss. In 2010, he starred as Pulitzer Prize–winning photographer Greg Marinovich in The Bang-Bang Club.
References
Edit
Ad blocker interference detected!
Wikia is a free-to-use site that makes money from advertising. We have a modified experience for viewers using ad blockers

Wikia is not accessible if you've made further modifications. Remove the custom ad blocker rule(s) and the page will load as expected.