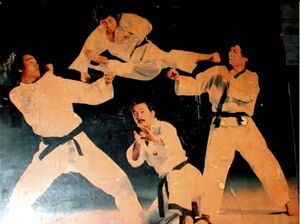 LEE, Seo-chong was one of the pioneers of taekwondo in Argentina.
Taekwondo was introduced in Argentina on June 22, 1967, when three Korean masters (Han Chang Kim, Nam Sung Choi and Kwang Duk Chung) arrived in Argentina. The three arrived on a cargo ship and both Choi and Chung intended to go to Paraguay to start businesses, but Kim convinced them to settle in Buenos Aires instead to start teaching taekwondo. The three men were later joined by Seo Chong Lee, Dae Yang and Chung Moon Chol Jung.
Lee Chong-Seo trained at Moo Duk Kwan and held a 5th Dan black belt there. He also had black belt rank in hapkido. Lee was tall and athletic, and was regarded as an acrobatic and precise kicker. He is regarded as the first martial artist to demonstrate the spinning kickins that highlight the difference between taekwondo and Japanese karate. His daily classes used to last more than three hours, where he taught forms, kicking drills, self defense, and sparring. Lee taught until 1976, when he moved to the United States. He is retired from the martial arts.
References
Edit
Ad blocker interference detected!
Wikia is a free-to-use site that makes money from advertising. We have a modified experience for viewers using ad blockers

Wikia is not accessible if you've made further modifications. Remove the custom ad blocker rule(s) and the page will load as expected.