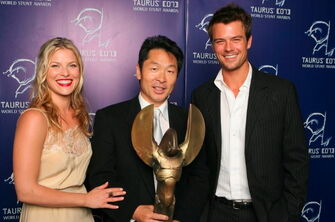 Simon Rhee is a 7th-Degree Black Belt in taekwondo and a 4th-Degree Black Belt in hapkido. He is world-renowned for his kicking abilities and for his incredible forms. His pictures have graced the covers of many Martial Arts magazines, and he has been involved in the movie industry as a Martial Artist, Stunt Coordinator, Fight Choreographer, and Instructor to many celebrities. Among his films are Best of the Best, in which he appeared with his brother Phillip Rhee.
Simon Rhee was born in San Jose, California, in 1957, but spent much of his childhood in Seoul, Korea, where he began his Martial Arts training. After becoming ill and contracting meningitis as a young child, his parents enrolled him in taekwondo classes to help strengthen his body. His intensive training continued in Korea, San Francisco, and then Los Angeles, and he has earned his 7th-degree Black Belt in taekwondo, through Kukkiwon in South Korea and a 4th-degree Black Belt in hapkido, along with extensive training in Wing Chung Kung Fu and Weapons, among others. Master Rhee is well known throughout the martial arts community for his countless victories as Grand Champion in the tournament circuit, in both sparring and in forms. He has been sought out by many major motion picture studios and celebrities because of his talent for instruction, Stunt Coordination and Fight Choreography. Some of his students have included Marcus Allen, Faye Dunaway, Heather Locklear, Lorenzo Lamas, A.C. Cowlings, Beau Bridges, Jay Leno, and Eric Roberts, among many others. Simon Rhee has acted, fight choreographed, performed stunts for, and stunt coordinated in the motion picture industry for over 15 years, and continues to work in the industry. He has a keen eye for creating the most dynamic fight and action sequences specifically for the motion picture camera, and has available to him an extensive network of the best trained stunt people and equipment to use for specific stunt scenes.
When he is not filming, he continues to enjoy teaching and training at his Woodland Hills Tae Kwon Do Center with his panel of Black Belts. Rhee has taught thousands of men, women and children the art of Tae Kwon Do for over 20 years at his Tae Kwon Do Center. Rhee lives in Southern California with his wife and two sons.
References
Edit