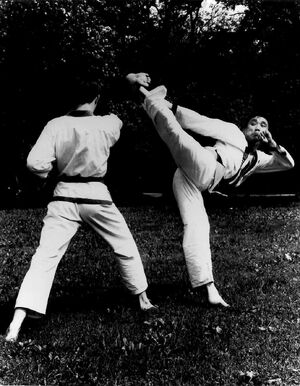 KANG, Sok-ho was the coach of the U.S. Taekwondo Team when taekwondo was a demonstration sport at the 1992 Olympics in Barcelona. Kang is also one of the founders of the United States Taekwondo Won, an association that promotes Traditional Taekwondo in the United States.
Biography
Edit
Kwan Jang Sok Ho Kang was born and raised in South Korea, and he began studying Korean martial arts at age 8. In 1954, Kang joined affiliations with the Moo Duk Kwan under Hwang Kee. The year that Kwans began to unify under the name Tae Kwon Do, Kang became the first instructor with the Korean Army's 9th Division. Kang continued to serve as the first instructor until 1957. He then became the instructor for the Police Cadet School in South Korea from 1957 to 1961. From 1961 to 1969, Kang was an instructor for the United States 8th Army in Korea. During this time, in 1963 Kang won the World Black Belt Champion and retired undefeated in 1965.
Kang immigrated to the United States in 1969. He came to this country for the purpose of teaching Moo Duk Kwan Tae Kwon Do for physical and mental conditioning.
In 1988 Grand Master Kang was head of the Tae Kwon Do Masters Delegation for the 1988 Olympics held in Seoul, South Korea. He was also a coach for the 1992 Olympics. Grandmaster Sok Ho Kang served as the Vice President of the United States Tae Kwon Do Union in 1995, during which time Tae Kwon Do was officially recognized as an Olympic event.
He is also one of the founding Korean Masters of the United States Tae kwon Do Won, and has served multiple terms as the USTW President. Grand Master Sok Ho Kang currently holds a ninth degree Black Belt and is one of the most prominent and respected masters in the nation and internationally.
He is known as the Father of Tae Kwon Do in West Virginia. Grandmaster Sok Ho Kang hosts the United States Open Martial Arts Championship in Charleston, West Virginia.
References
Edit
Ad blocker interference detected!
Wikia is a free-to-use site that makes money from advertising. We have a modified experience for viewers using ad blockers

Wikia is not accessible if you've made further modifications. Remove the custom ad blocker rule(s) and the page will load as expected.