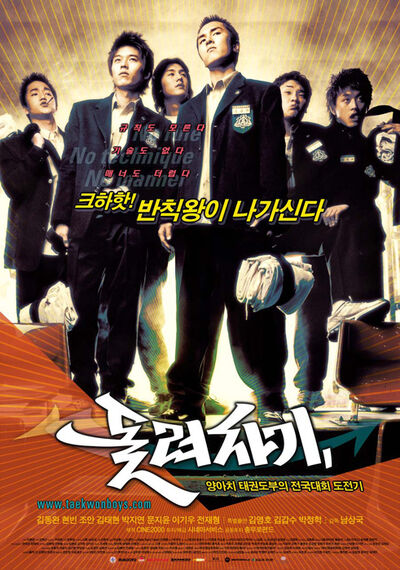 From http://asianwiki.com/Spin_Kick
Manseh High School was once famous for their martial arts team, but the those golden days have longed passed. Now, the team is a shell of its former self with just one member Min-Gyu (Hyun-Bin), even remotely having any skills. In two weeks, the National Taekwondo Competition will take place. Coach Koh at Manseh High School demands that the team make it at least to the semi-final round. Meanwhile, members of the Manseh High School Martial Arts team ride the public bus. On the same bus, the school's notorious gang are also passengers. The gang members then draws a line in the bus and dares anyone to cross the line. Some members of the martial arts team crosses the line and a huge brawl erupts on the bus. The end result is all the martial arts team members are hospitalized and the gang members are taken away by the police.
Out of sheer desperation, the principle (Kim Kap-Soo) at Manseh High School offers the gang members a deal. Either join the school's taekwondo team or get expelled from school. The gang members, still in a holding cell at the police station, have little choice but to join the taekwondo team. Can these unruly gang members help take the school's taekwondo team into the semi finals of the National Taekwondo Competition?
Ad blocker interference detected!
Wikia is a free-to-use site that makes money from advertising. We have a modified experience for viewers using ad blockers

Wikia is not accessible if you've made further modifications. Remove the custom ad blocker rule(s) and the page will load as expected.