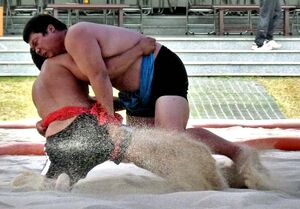 Ssireum (Hangul: 씨름) or Korean wrestling is a folk wrestling style and traditional national sport of Korea. In the modern form each contestant wears a belt (satba) that wraps around the waist and the thigh. The competition employs a series of techniques, which inflict little harm or injury to the opponent: opponents lock on to each other's belt, and one achieves victory by bringing any part of the opponent's body above the knee to the ground.
See Also
Edit
References
Edit
Ad blocker interference detected!
Wikia is a free-to-use site that makes money from advertising. We have a modified experience for viewers using ad blockers

Wikia is not accessible if you've made further modifications. Remove the custom ad blocker rule(s) and the page will load as expected.