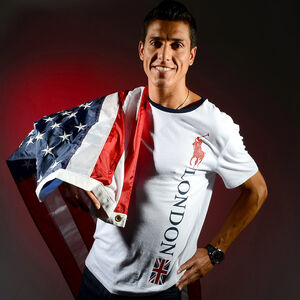 Steven López
(born November 9, 1978) is a 2000 and 2004 Olympic Gold medalist and a 2008 Olympic Bronze medalist and 4th Dan in taekwondo. In 2001, he won the Lightweight Taekwondo World Championship, and in 2003 he won the Welterweight Taekwondo World Championship which he has since won in 2005, 2007 and 2009 making him the first Taekwondo fighter to win 5 World Championships.
López's siblings, Mark Lopez, Diana Lopez and Jean Lopez (coach) are all USA National Team Members in Taekwondo. His younger siblings, Mark and Diana, also represented the United States at the 2008 Beijing Olympics, marking the first time since 1904 that three siblings have been on the same Olympic team. Both López and siblings, Mark (men's featherweight) and Diana (women's featherweight), made sports history in April 2005 when they all claimed a world championship title at the same event (2005 World Taekwondo Championships) with their oldest brother, Jean, participating in the feat as their coach. Steven Lopez and Diana Lopez both qualified for the 2012 Olympic games in London in July 2012 at the Olympic Training Center in Colorado Springs, CO.
References
Edit
Ad blocker interference detected!
Wikia is a free-to-use site that makes money from advertising. We have a modified experience for viewers using ad blockers

Wikia is not accessible if you've made further modifications. Remove the custom ad blocker rule(s) and the page will load as expected.