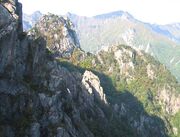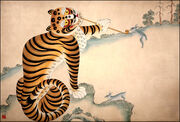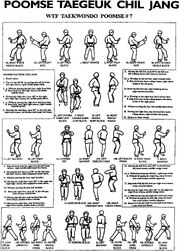 Taegeuk Chil Jang is the seventh of eight "taegeuk" forms (i.e., poomsae) used by Kukkiwon and World Taekwondo (WT). The word "chil" is the number 7 in the sino-Korean numbering system.
Each taegeuk form is represented by a trigram (such as ☶); trigrams are divination symbols derived from the I Ching. The trigram for Taegeuk Sam Jang represents the concept of "Kan" (also spelled Gan). Kan represents a mountain peak, which is solid, stable, and unmovable. This form teach commitment to both motion and to immobility, which rapid movements forward followed by sudden stops. (See the article Taegeuk for additional detail regarding the symbolism of this form.)
This form introduces the Cat Stance (also called Tiger Stance), the Knee Strike, and the Crescent Kick as well as a number of new blocks. Some say the prominence of the Tiger Stance in this form is also associated with the "mountain" symbology of the form, since in Korean culture tigers are associated with life in the mountains.
The blocks in this form are intended to reflect immovability (like a mountain); i.e., rather than reflecting the blows, they take the blows head-on. This can be seen for example at step 16, the Low Cross Block. 2nd Gup grade trainees practice this poomsae. Unlike previous Taegeuk forms, this form introduces an exceptionally large number of new techniques.
The Kukkiwon official video for this form is on YouTube here.
Video with Notes
Edit
The following video is a step-by-step demonstration of Taegeuk Chil Jang, with notes.
Video from Behind
Edit
Often it's useful to watch a video that's viewed from behind the performer's starting position.
To print the diagram, click on the image and select "See full size image," or right-click and open the image in a new tab.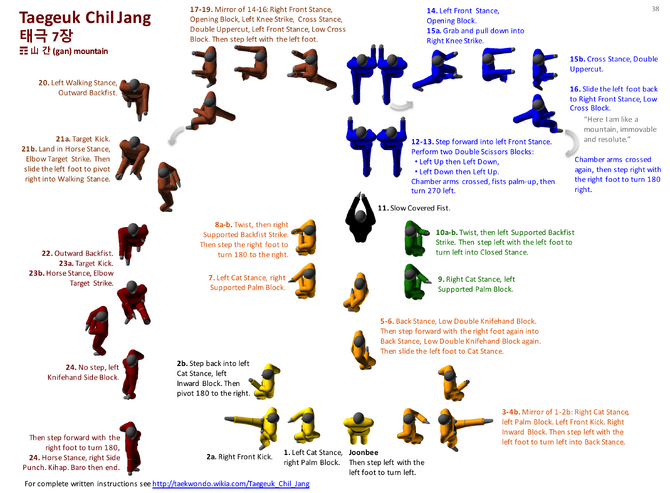 New movements in this form: Tiger Stance (at step 7), Covered Fist (step 11), Scissors Block (at step 12), Knee Strike (at step 15a), Opening Block (at step 14),  Double Uppercut (at step 15b), Cross Block (at step 16), Target Cresent Kick (at step 21a), Side Block (at step 14), Horse Stance (at step 21b).
Other movements in this form: Palmheel Block, Front Kick, Inward Block, Knifehand Block, Backfist Strike, Elbow Strike.
Written Instructions
Edit
Like all Taegeuk forms, this poomsae is performed on three lines. Imagine three parallel lines laid out side-to-side before you. You first perform the steps on the first line, then step forward to the second line, perform the steps on the second line, step forward to the third line, etc. The left side of each line is a mirror image of the right side of the line.
FIRST LINE
Edit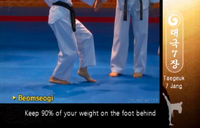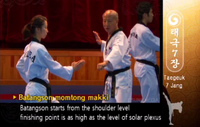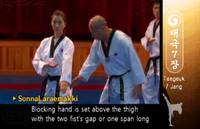 SECOND LINE
Edit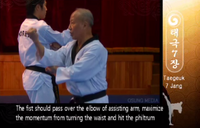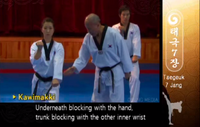 THIRD LINE
Edit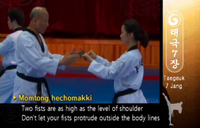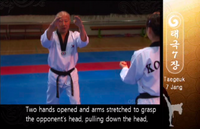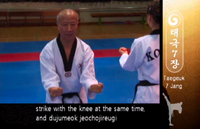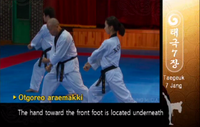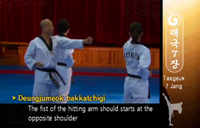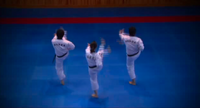 Wallpapers
Edit
To save this image, click on the image and select "See full size image" -- or right-click and open the image in a new tab. Then right-click on the full-size image to save it to your desktop.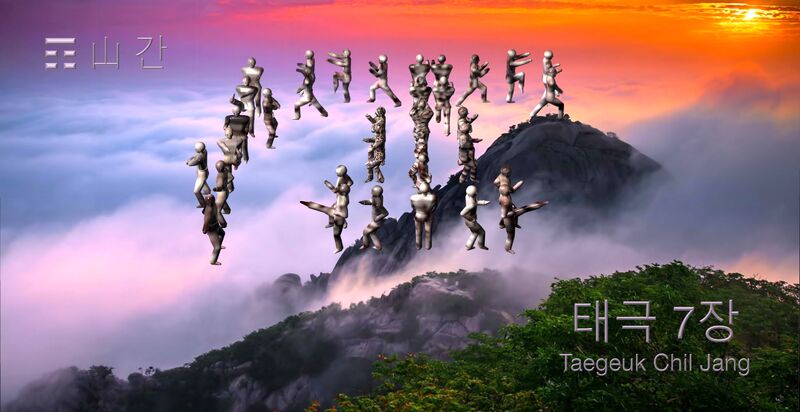 Other Forms in the Taegeuk Series
Edit