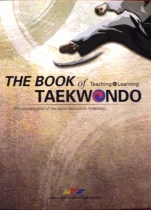 Book Title: The Book of Teaching & Learning Taekwondo - Official Publication of the World Taekwondo Federation
Authors: World Taekwondo Federation
Taekwondo Style: WTF Taekwondo
ISBN: 978-8960690516
Amazon: http://www.amazon.com/Book-Teaching-Learning-Taekwondo-Publication/dp/8960690511
Summary Recommendation: This book really seems more geared toward teaching taekwondo rather than learning taekwondo. There's a lot of emphasis on coaching and the Olympics as well.
Description
Edit
Table of Contents:
Taekwondo and the Olympics
Olympism and Fair Play
Coaching Foundation of Taekwondo
Leadership as a Taekwondo Instructor
Physical and Mental Discipline
Understanding Taekwondo
Ideology, Spirit and Values in Taekwondo
Oriental Understanding of Taekwondo Movements
Technical Training of Taekwondo Poomsae
Taekwondo Kyorugi
Taewondo and Biomechanics
Taekwondo and Sports Injury
From Amazon: None
Ad blocker interference detected!
Wikia is a free-to-use site that makes money from advertising. We have a modified experience for viewers using ad blockers

Wikia is not accessible if you've made further modifications. Remove the custom ad blocker rule(s) and the page will load as expected.