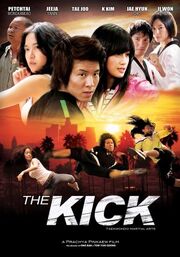 The Kick (Korean: 더 킥; Thai: วอนโดนเตะ!!) is a 2011 Thai martial arts film directed by Prachya Pinkaew. The film follows a Korean family of taekwondo experts who immigrate to Thailand.
See Wikipedia: https://en.wikipedia.org/wiki/The_Kick
Stream it on Amazon.
Mun is a taekwondo master running an old taekwondo gym in Bangkok. All five members of his family are also taekwondo exponents, each of whom infuses the art with a particular skill: his wife Mija in cooking style, son Taeyang in dancing style, daughter Taemi in soccer style, and the youngest Typhoon can break anything with his strong forehead.
Mun wants his children to be taekwondo coaches to take over his gym in the future. However, regardless of their father's will, Taeyang wants to be a famous pop singer and Taemi is only interested in her secret crush at school.
One day, Taeyang foils a gang's attempt to steal a priceless antique kris. Pom, the leader of the gang, is the only one to escape and threatens revenge. Mun's family becomes more popular in the public eye, not knowing when or where Pom will get his revenge.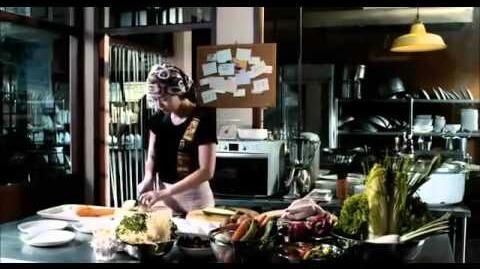 Ad blocker interference detected!
Wikia is a free-to-use site that makes money from advertising. We have a modified experience for viewers using ad blockers

Wikia is not accessible if you've made further modifications. Remove the custom ad blocker rule(s) and the page will load as expected.