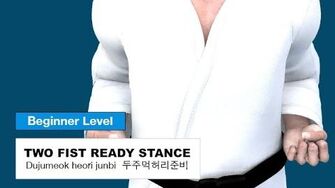 Two Fists on the Waist posture (also called Two Fists Ready Stance 두주먹허리준비 dujumeok heori junbi) is a ready posture with both fists at the side of the waistline. The backs of the fists should facing down and the elbows completely pulled back.
References
Edit
Ad blocker interference detected!
Wikia is a free-to-use site that makes money from advertising. We have a modified experience for viewers using ad blockers

Wikia is not accessible if you've made further modifications. Remove the custom ad blocker rule(s) and the page will load as expected.