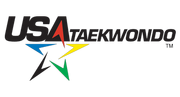 USA Taekwondo (USAT) is the National Governing Body (NGB) for Olympic taekwondo in the United States. It is sponsored by the United States Olympic Committee (USOC).
Established in 1973, USA Taekwondo is comprised of more than 800 clubs and 16,000 members nationwide. As the sport's NGB, USA Taekwondo serves to best equip its athletes and coaches to perform at the highest level—the Olympic Games and World Championships. In doing so, USA Taekwondo operates and sanctions a number of national events each year that include the USA Taekwondo National Championships, National Team Trials and the U.S. Open, as well as fund athlete camps and travel to international events as athletes pursue their Olympic dreams.
In addition to Olympic sparring, USA Taekwondo events also include Poomsae (forms). Through national competitions and trials, USA Taekwondo selects Poomsae teams to compete in international competitions annually such as the Poomsae World Championships.
See Also
Edit
References
Edit
Ad blocker interference detected!
Wikia is a free-to-use site that makes money from advertising. We have a modified experience for viewers using ad blockers

Wikia is not accessible if you've made further modifications. Remove the custom ad blocker rule(s) and the page will load as expected.