A WTF Global License is a license issued to athletes, officials, and participants who want to participate in WTF-sanctioned tournaments. This policy applies to:
athletes and officials participating in WTF-promoted championships or Ranking-Point Tournaments (see below for definition)
all sparring and poomsae athletes, of all ages
all team officials, including coaches, team managers, and team medical personnel
for some tournaments (but not all tournaments), referees must also have a WTF Global License (each tournament is allowed to make this decision for that tournament)
Applicants for a WTF Global License must be able to prove:
Their nationality, using a birth certificate, passport, or other similar national ID
Their identity, using a passport, driver's license, or other government-issued ID
Proof of black belt, though it should be noted that this does not need to be a Kukkiwon-certified black belt (i.e., club-issued certificates are acceptable for obtaining a WTF Global License)
WTF Ranking-Point Tournaments
Edit
A WTF-sanctioned tournament is called a Ranking-Point Tournament if athletes at the event will be awarded points within the WTF athlete ranking system.
Often such tournaments are called G-Rated Events or G-Ranked Events.
Sometimes however, the term G-Rated Event is reserved for individual competitions within a tournament. For example, sparring or poomsae will be referred to as G-Rated Events, whereas board-breaking is not.
To qualify as a Ranking-Point Tournament a tournament must meet certain standards, including:
Tournament details such as location, dates, competition categories, etc. must be approved by a WTF member union (such as the Asia, Africa, Europe, Oceana, and Pan-America Unions within the WTF)
Officials from WTF member unions (such as the union president, referees chairman, etc.) must be invited to the tournament (with travel costs covered by the tournament)
The tournament must perform anti-doping testing
The electronic systems used by the tournament must be approved by the WTF member union (for example, the online registration system, the tournament management system, the poomsae scoring system etc.)
All athletes competing in the event must hold WTF Global Licenses
Grade of TournamentEdit
Different kinds of Ranking-Point Tournaments are assigned a grade. For example:
| Grade | Event |
| --- | --- |
| G-20 | Olympics |
| G-12 | WTF World Taekwondo Championships |
| G-8 | Grand Prix (GP) Final, WTF World Para-Taekwondo Championships |
| G-4 | Grand Prix (GP) Series, Continental Championships, and Continental multi-sport games that have a 4-year cycle, Continental Para-Taekwondo Championships |
| G-2 | WTF World Cup Taekwondo Team Championships, Universiade, CISM World Games, and WTF G2 tournaments such as the U.S. Open, Multi-sport events for para-athletes |
| G-1 | World Military Championships, World University Championships, Multi-sport games (other than Continental multi-sport games with 4-year cycles), WTF G1 tournaments, WTF G1 para-taekwondo tournaments |
The "G" value of a tournament is used to calculate how many points an athlete is awarded for winning at that tournment. For example the Olympics as a G-20 tournament is worth five times as many points to the athlete as a Continental Championship (a G-4 tournament)
Awarding Points to AthletesEdit
Points are awarded to an athlete according to the formula:
Rank of Athlete within the touranment x Grade of Tournament 
Where (generally):
The first-place athlete is said to have a "rank" of 10 within the tournament
The second-place athlete is said to have a rank of 6 within the tournament (60% of first-place)
The third-place athelete is said to have a rank of 3.6 within the tournament (60% of second-place)
The fourth-place athelete is said to have a rank of 2.16 within the tournament (60% of third-place)
Thereafter (generally) the percentage used is 70% rather than 60%
Example: An athlete places 3rd at a G-8 event. Then the athelete is awarded:
(10 points x 60% x 60%) x 8 = 28.8 points
The following table summarizes these calculations: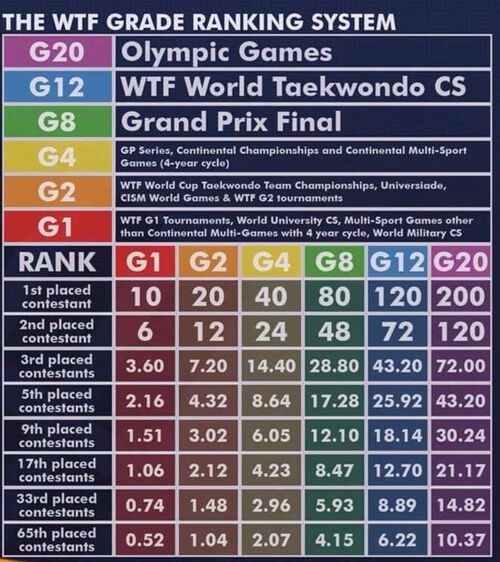 Attrition of Athlete Points
Edit
When an athlete is awarded points at a Ranking-Point Tournament, those points remain attached to that athelete for four years. During a four-year period, pointed are deducted from the athletes rank after each completed year by 25% of the initial points. 
For example: If an athlete won 8 points at the Trelleborg Open on Feb 9 2014, then...

On February 28 2015, 25% of those points (2 points total) will be deducted from the athelete's rank
On February 28, 2016 another 2 points will be deducted
And so on, until by February 2018 no points remain from that tournament
Current WTF Rankings
Edit
The current WTF rankings are available online at http://www.worldtaekwondofederation.net/ranking/
See Also
Edit
References
Edit
Ad blocker interference detected!
Wikia is a free-to-use site that makes money from advertising. We have a modified experience for viewers using ad blockers

Wikia is not accessible if you've made further modifications. Remove the custom ad blocker rule(s) and the page will load as expected.