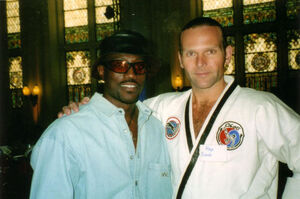 Actor Wesley Snipes is a fifth dan black belt in Shotokan Karate, a third dan black belt in taekwondo, and a second degree black belt in Hapkido. He also practices kung fu, capoeira, eskrima and Brazilian Jiu-Jitsu.
Wesley Trent Snipes (born July 31, 1962) is an American actor, film producer, and martial artist. He is best known for his role as the Marvel Comics character Blade in the Blade film trilogy. He formed a production company, Amen-Ra Films, in 1991, and a subsidiary, Black Dot Media, to develop projects for film and television. He has been training in martial arts since the age of 12, earning a 5th dan black belt in Shotokan Karate and 2nd dan black belt in Hapkido.
References
Edit
Ad blocker interference detected!
Wikia is a free-to-use site that makes money from advertising. We have a modified experience for viewers using ad blockers

Wikia is not accessible if you've made further modifications. Remove the custom ad blocker rule(s) and the page will load as expected.